ALEX PECK
ANTIQUE AMPUTATION AND TREPHINE SETS
Page 6
All pictures and text on this site are copyrighted ©1982-2019 Alex Peck. All rights reserved.
_______________
A MATCHING SET OF WOCHER AMPUTATION AND TREPHINE SETS THAT WERE ORIGINALLY OWNED BY SAMUEL WARREN VANCE, M.D.
__________________________________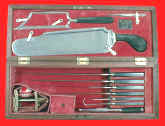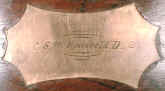 Here are two antique surgical sets that have their respective lid brass cartouches jeweler engraved in the same hand: S.W. Vance, M.D. Samuel Warren Vance (d. 1910) practiced in Connersville, Indiana. He has an entry in the Medical & Surgical History of the War of the Rebellion as a pension examiner.
The superb and all original c. 1855 amputation set by Max Wocher, Cincinnati, is in a rosewood case. The surgical instruments are in pristine condition, with the steel retaining its original polish and the ebony handles their original workshop fresh finish. This cased set has some quirky aspects, such as very thin amputation knives, an unusual capital amputation saw, and a type of Petit tourniquet not known to this dealer. The address 6th bet[ween]. Vine and Race on the trade label pasted to the interior lid indicates, according to Edmonson, that the set was made in 1855. See Edmonson, p. 249. This pre-Civil War set was apparently never used.
The original buyer of such amputation sets had the option of purchasing a matching trephine set. As it so happens, the mate trephine kit to the Vance amputation set survives and, after who knows how many years of separation, the two have been reunited. The trade label with address is identical to that found in the amputation set.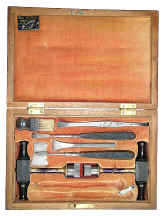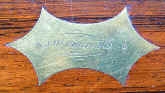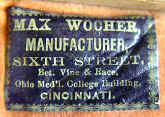 _______________________________________
__________________________________
Archives Collecting Alerts Reference Books Wants