BUYING MEDICAL ANTIQUES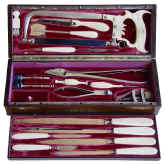 Alex Peck actively buys important and high quality antique medical, surgical, bloodletting, and dental instruments, Revolutionary War and Civil War medical antiques, books, photographs, letters, personal medical-related objects of doctors, medical school memorabilia, and other similar items.
We look forward to hearing about items that you have for sale. Please contact us at Send a Message.
Thanks!
All pictures and text on this site are copyrighted ©1982-2023 Alex Peck. All rights reserved.
______________________
ACTIVELY BUYING MEDICAL ANTIQUES:
ANTIQUE MEDICAL AND SURGERY INSTRUMENTS MADE BY GEORGE TIEMANN, PETER ROSE, WILLIAM GOULDING, HERNSTIEN, BRINKERHOFF, KERN, GEMRIG, KOLBE, HELMOLD, REES, WOCHER, ROSE & SELLERS, ARNOLD, REINHARDT, DUFILHO, SNOWDEN, WIEGAND, SCHIVELY, CODMAN & SHURTLEFF, SHEPARD & DUDLEY, FORD, WADE & FORD, KUEMERLE, TEUFEL, AUTHENRIETH, KLOTT, WOLF, CHEVALIER, S.S. WHITE, BIDDLE, MADIERA, GOLDTHWAITE, WEISS, EVANS, MAW, HUTCHINSON, SAVIGNY, GRANGERET, CHARRIERE, MATHIEU, HEINE, AND OTHER MAKERS
ANTIQUE AMPUTATION SETS AND MINOR SURGERY SETS, INDIVIDUAL AMPUTATION SAWS, KNIVES, LISTON KNIVES, CIRCULAR AMPUTATION KNIVES, HEINE SAW, CHAIN SAW, ANTIQUE TOURNIQUETS, SIGNORONI'S TOURNIQUET, BONE FORCEPS, ECRASEUR, NELATON PROBE, AND OTHER SURGICAL INSTRUMENTS OF ALL DESCRIPTION
ANTIQUE BLOODLETTING INSTRUMENTS: LANCETS, LANCET ETUIS, FLEAMS, SCARIFICATORS, MECHANICAL LEECHES, ARTIFICIAL LEECHES, LEECH JARS, CUPPING SETS, CUPS, HORN CUPS, TIN CUPS, UNUSUAL GLASS CUPS, SPRING LANCETS, MECHANICAL LANCETS, ANTIQUE BLEEDERS, BLOOD STICKS, FLEAM STICKS, BOOKS, PRINTS, AND PHOTOGRAPHS DEALING WITH BLOODLETTING, HEURTELOUP'S ARTIFICIAL LEECH, BARON HEURTELOUP, DRY CUPPING, WET CUPPING
ANTIQUE STETHOSCOPES: MONAURAL, BINAURAL, LAENNEC, PIORRY, STOKES, BILLINGS, CAMMANN, ESPECIALLY INSTRUMENTS MADE FROM IVORY AND SILVER
ANTIQUE OBSTETRICAL SETS AND INSTRUMENTS, OB FORCEPS, LEVERS, VECTI, FETAL DESTRUCTION INSTRUMENTS, HOOKS, CRANIAL TREPHINES, CRANIOCLASTS
ANTIQUE OPHTHALMIC SETS AND INSTRUMENTS, OPHTHALMOSCOPES, CATARACT KNIVES, TRIAL LENS SETS, MODEL EYES, AUZOUX MODELS, EYEGLASSES
ANTIQUE DENTAL INSTRUMENTS AND SETS, TOOTHKEYS, PELICANS, UNUSUAL FORCEPS, TOOTHBRUSHES, FALSE TEETH, MOTHER OF PEARL SETS, MOTHER OF PEARL MIRRORS AND SCISSORS, KERN, CHEVALLIER, S.S. WHITE, BIDDLE, TIEMANN
ANTIQUE APOTHECARY SETS, UNUSUAL BOTTLES, SHOW GLOBES, BALANCES, WEIGHTS, SUPPOSITORIES
REVOLUTIONARY WAR MEDICAL INSTRUMENTS, SURGICAL SETS, INDIVIDUAL ANTIQUE SURGICAL INSTRUMENTS, DOCUMENTS
CIVIL WAR-BOTH NORTH AND SOUTH- ANTIQUE MEDICAL INSTRUMENTS, SURGEON'S UNIFORMS, INSIGNIA, SWORDS, MODEL 1832 MEDICAL STAFF SWORD, MODEL 1840 MEDICAL STAFF SWORD, ANYTHING PRESENTED TO A SURGEON OR DOCTOR, SURGICAL SETS, SURGICAL BOOKS, SURGICAL MANUALS, PHOTOGRAPHS, LETTERS, DIARIES, U.S.A. HOSPITAL DEPARTMENT MARKED SETS AND INSTRUMENTS, U.S.A. HOSPL. DEPT. MARKED SETS AND INSTRUMENTS, U.S.A. MEDICAL DEPARTMENT MARKED SETS AND INSTRUMENTS, U.S.A. MED. DEPT. MARKED SETS AND INSTRUMENTS, MEDICINE CASES, HOSPITAL STEWARD'S KNAPSACKS, SURGEON'S COMPANIONS, PANNIERS, ESPECIALLY BY ASTORIA LAB, SQUIBB, OR MARIS, OTHER CW SURGEON'S PERSONAL ITEMS, SUCH AS CLOTHING, GUNS, SWORDS, PHOTOGRAPHS, CDVS, MEDALS, ANYTHING RELATED TO J.J. CHISOLM, J. JULIAN CHISOLM, FRANK HASTINGS HAMILTON, STEPHEN SMITH, VALENTINE MOTT, ALEXANDER MOTT, REED BROCKWAY BONTECOU, R.B. BONTECOU, HAREWOOD HOSPITAL, GETTYSBURG, ANTIETAM, WILDERNESS, CIVIL WAR BATTLES, CIVIL WAR HOSPITALS, SAMUEL PRESTON MOORE, PORCHER
ANTIQUE UROLOGICAL AND LITHOTOMY SETS AND INSTRUMENTS, LITHOTRIPTERS, LITHOTRITES, LITHOTRIBES, GORGETS, STONES MADE INTO ORNAMENT AND KEEPSAKES
ANTIQUE CANES OR WALKING STICKS WITH A MEDICAL ASPECT, CONTAINING MEDICATIONS, SYRINGES, STETHOSCOPES, ETC.
ANTIQUE PHRENOLOGY MATERIAL, BUSTS, ESPECIALLY EARLY AND IVORY EXAMPLES, CALIPERS
ANTIQUE CLINICAL THERMOMETERS, CASES, TIEMANN'S BENT, IVORY AXILLA, IMMISCH

ANTIQUE MICROSCOPES, PRE-1900 BRASS MONOCULAR AND BINOCULAR, POWELL & LEYLAND, ROSS, BAKER, PILISCHER, MARTIN, CUFF, MARSHALL, W. & S. JONES, BECK, CARY, DOLLAND, ADAMS, ZENTMAYER, BAUSCH & LOMB, TOLLES, GRUNOW, QUEEN, BULLOCH, NACHET, ZEISS, LEITZ, EARLY MICROSCOPE ACCESSORIES
______________________________________
___________________________