surgical set, civil war
AMPUTATION SET BY
MAX WOCHER
Alex Peck Medical Antiques
All pictures and text on this site are copyrighted ©1982-2021 Alex Peck. All rights reserve.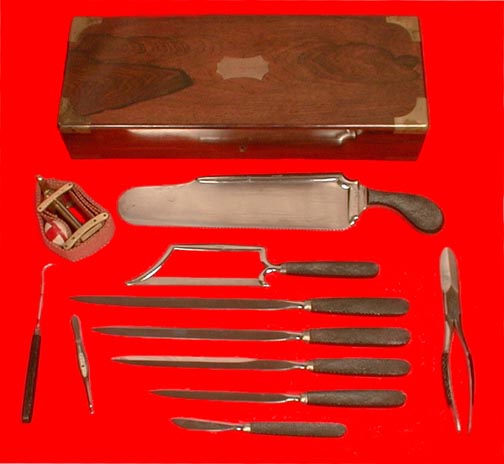 A superb and all original c. 1855 amputation set by Wocher, Cincinnati, in a rosewood case. The instruments are in pristine condition, with the steel retaining its original polish and the ebony handles their original workshop fresh finish. The set has some quirky aspects, such as very thin knives, an unusual capital saw, and a type of Petit tourniquet not known to this dealer. The address 6th bet[ween]. Vine and Race on the trade label pasted to the interior lid indicates, according to Edmonson, that the set was made in 1855.
The lid cartouche is jeweler engraved: S.W. Vance, M.D. Samuel Warren Vance (d. 1910) practiced in Connersville, Indiana. He has an entry in the Medical & Surgical History of the War of the Rebellion as a pension examiner.
The set was apparently never used. See Edmonson, p. 249.
______________________
Medical Antiques Sale Catalogue
_____________________________
DO YOU HAVE A GREAT SURGICAL SET TO SELL?
___________________________
For additional surgical sets and other medical antiques, visit the various sections of this web site.