CONFEDERATE SURGEON'S
FROCK COAT
Alex Peck Medical Antiques
All pictures and text on this site are copyrighted ©1982-2021 Alex Peck. All rights reserve.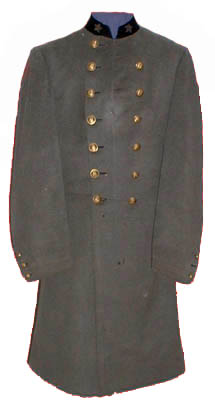 A rare Civil War Confederate surgeon's coat from Virginia. The collar is faced in the black branch color of the Confederate medical department. The star insignia indicates the rank of major (full surgeon). The original buttons show the state seal of Virginia. The backmark of the buttons is that of Mitchell and Tyler, the leading Civil War military outfitter in Richmond. The noted expert on CSA uniforms has personally examined this coat and affirmed in a written critique that it is a genuine Civil War Confederate surgeon's coat in the tailoring style of the Richmond area.
___________________________
Archives Articles Collecting Alerts
For additional Civil War medical antiques, visit the various sections of this web site.