OBSTETRICAL ANTIQUES: FORCEPS AND FETAL DESTRUCTION INSTRUMENTS
Alex Peck Medical Antiques
All pictures and text on this site are copyrighted ©1982-2021 Alex Peck. All rights reserve.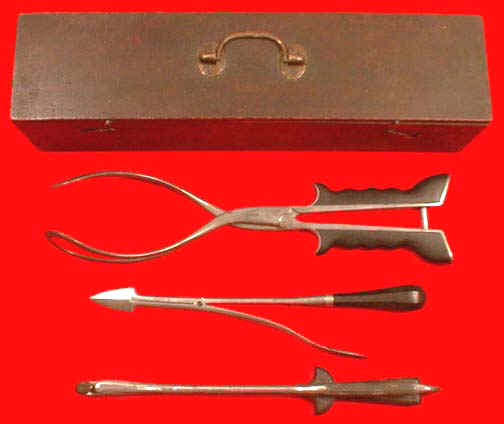 A set of c. 1850s Dr. Elliot's obstetrical forceps (first pattern of 1858), a perforator, and Dr. Bedford's blunt hook and guarded crotchet. Each instrument is in fine condition and marked Tiemann. Note that the Dr. Elliot's obstetrical forceps has a sliding and tapered pin built into the inside of one handle. The inside of the opposing handle has a series of holes of varying diameter. Moving the pin adjusts the closure of the forceps. This first pattern Elliot's forceps is not pictured in any of the Tiemann catalogues of the 1870s and '80s. For an image, see Shepard & Dudley's catalogue of 1886, p. 785, fig. 4621, and Hibbard, p. 104, fig. 7.13. Das, pp. 370-71, fig. 463, shows the later modified Elliot's.
__________________________________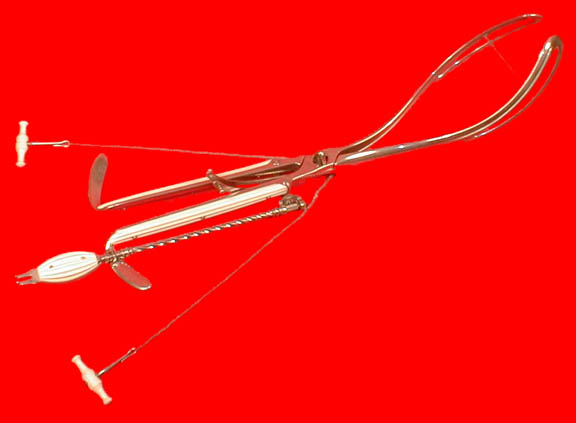 An exceedingly rare c. 1875 Van Huevel's forceps-saw for dividing the head of the fetus from crown to base. The instrument is marked: A. AUBRY / Bt St. MICHEL, 6 / PARIS. This is thought to be an exhibition piece and the finest example known of this instrument. The fluted handles to the forceps, the adjustment screw, and the chain saw are made of ivory. Overall length is twenty-two inches.
Jean-Baptiste Van Huevel (1802-1883), of Brussels, invented the forceps-scie in the 1840s. See Tiemann, 1889, p. 551, fig. 3818.
This instrument may be be the finest fetal destruction instrument ever made.
______________________________________________
Archives Articles Collecting Alerts
For additional antique obstetrical artifacts and other medical antiques, visit the various sections of this web site.