CIVIL WAR MEDICAL SWORD
Alex Peck Medical Antiques
All pictures and text on this site are copyrighted ©1982-2021 Alex Peck. All rights reserve.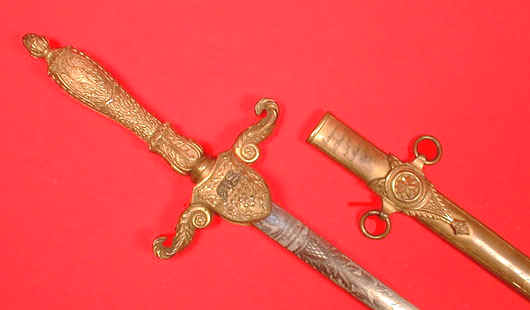 A Civil War date regulation Model 1840 Medical Staff sword by Horstmann, Philadelphia. The frosty blade is etched: United States Medical Staff. Silver old English M.S. letters are applied to the langet. The brass scabbard is engraved at the throat: Surgeon / O.E. Brewster / 40th / Mass. Dr. Oliver E. Brewster graduated from the Berkshire Medical College, Pittsfield, in 1839. He served in the 40th from September 1862 to October 1863.
___________________________
A Civil War surgeon and his Model 1840 Medical Staff sword.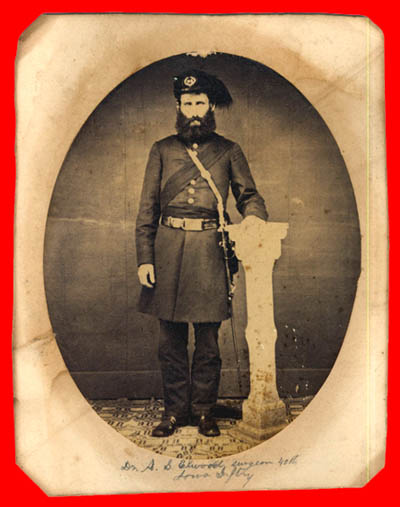 A c. 1862 albumen photograph signed Dr. A. S. Elwood, Surgeon 40th / Iowa Infantry. Dr. Azariah S. Elwood is shown in the full regalia of a newly appointed assistant surgeon. Note the plumed-Hardy hat with M.S. badge, the model 1840 Medical Staff sword, and the sash across his chest (worn in this manner to indicate that he is the officer of the day). The 40th Iowa was organized in Monroe, Iowa, and took part in Grant's Vicksburg Campaign. The photographer's backmark is of J.B. Hall, Monroe.
_____________________________________
Archives Articles Collecting Alerts
For additional Civil War medical antiques, visit the various sections of this web site.