CIVIL WAR MEDICAL BOX
Alex Peck Medical Antiques
All pictures and text on this site are copyrighted ©1982-2022 Alex Peck. All rights reserve.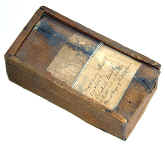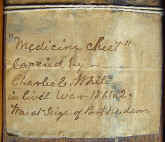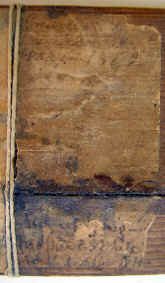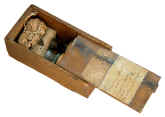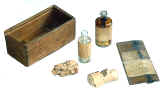 A Civil War medical box with period label stating: Charles E. White / carried ______(?) / War in 1862 /// Put up by his / mother E.G. White at Deerfield NH. Another later label in the same hand says: "Medicine Chest" / carried by / Charles E. White / in Civil War 1861&2. / Was at the Siege of Port Hudson. Inside are two bottles. One has a label that reads: Cherry B[ay]. / For Dysentery. Dose Teaspoonfull (sic) With Sugar Water. The second bottle's label says: Paregoric / Dose Half Teaspoonfull (sic) / With Sugar Water / Two or Three times a day. A roll of bandage with a paper Linen label and a small package marked Pum[ice] Ball are also found in the pine box. Charles E. White served in the 15th New Hampshire.
___________________________
Archives Articles Collecting Alerts
For additional Civil War medical antiques, visit the various sections of this web site.