SURGICAL ANTIQUES
Page 5
All pictures and text on this site are copyrighted ©1982-2021 Alex Peck. All rights reserved.
_______________
A C. 1600 SURGICAL AMPUTATION SAW

A very early capital amputation saw from Jacobean England. The saw is impressed with the H mark of Robert Hobbs, London, fl. c. 1606-1621. Instruments by Hobbs are believed to be the earliest extant English maker-marked surgical instruments. A nearly identical saw is illustrated in John Woodall, The Surgeon's Mate, 1639. This is precisely the saw that one would expect to have been used by Giles Heale, a member of the Barber-Surgeon's Company and the ship's surgeon on the Mayflower, and by Samuel Fuller, the surgeon of Plymouth Colony. 25" long.
______________________
Click any image to make it larger.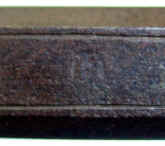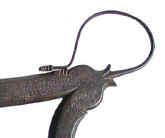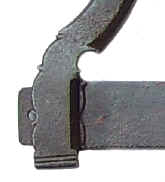 _______________________________________
__________________________________
Archives Collecting Alerts Reference Books Wants